Online Font Changer is a free tool to generate fancy text fonts which you can use on social media. This tool converts your normal texts into fancy texts with stylish symbols and letters. And you can easily copy it with one click.
How To Generate Fancy Texts?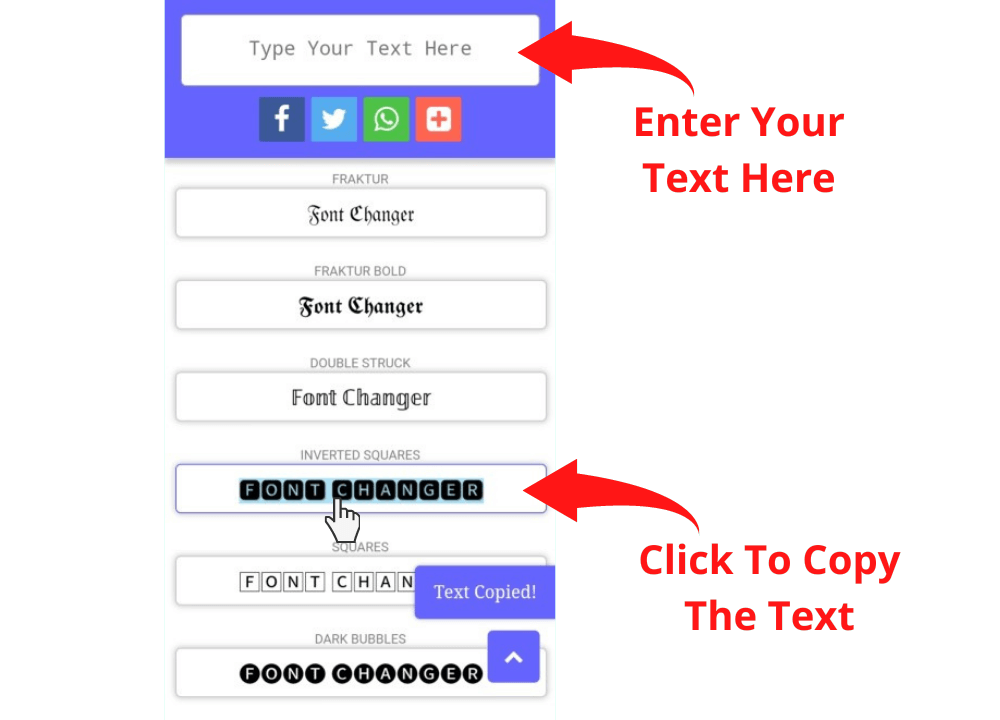 It is very easy to use, you just need to enter your normal text which you want to convert in fancy fonts. This tool will convert your text into unlimited stylish fonts. Then, simply click on the font which you want to copy and it will automatically copy your text. Now you can paste and share these fancy texts anywhere you want.
What types of fonts does it generate?
Font Changer generates many different types of Fonts, few of them given below.
Fraktur font
𝔉𝔯𝔞𝔨𝔱𝔲𝔯
𝕱𝖗𝖆𝖐𝖙𝖚𝖗 𝕭𝖔𝖑𝖉
Double Struck font
𝔻𝕠𝕦𝕓𝕝𝕖 𝕊𝕥𝕣𝕦𝕔𝕜
Cursive Fonts
𝒞𝓊𝓇𝓈𝒾𝓋𝑒
𝓒𝓾𝓻𝓼𝓲𝓿𝓮 𝓑𝓸𝓵𝓭
Squares and Circles Fonts
Ⓑⓤⓑⓑⓛⓔⓢ
🅓🅐🅡🅚 🅑🅤🅑🅑🅛🅔🅢
🅂🅀🅄🄰🅁🄴🅂
🅳🅰🆁🅺 🆂🆀🆄🅰🆁🅴🆂
Bold and Italic Fonts
𝐁𝐨𝐥𝐝
𝗕𝗼𝗹𝗱 𝗦𝗮𝗻𝘀
𝘐𝘵𝘢𝘭𝘪𝘤
𝙄𝙩𝙖𝙡𝙞𝙘 𝘽𝙤𝙡𝙙
Squiggle Fonts
ՏφՄɿԳԳʅe
sզմíցցlҽ
ʂϙυιɠɠʅҽ
ֆզʊɨɢɢʟɛ
Strikethrough Fonts
S̶t̶r̶i̶k̶e̶t̶h̶r̶o̶u̶g̶h̶
T̴i̴l̴d̴e̴ ̴S̴t̴r̴i̴k̴e̴T̴h̴r̴o̴u̴g̴h̴
S̷l̷a̷s̷h̷T̷h̷r̷o̷u̷g̷h̷
Underline Fonts
U̲n̲d̲e̲r̲l̲i̲n̲e̲
S̼e̼a̼g̼u̼l̼l̼
A͎r͎r͎o͎w͎
Upside Down Fonts
ʇuoℲ uʍoᗡ ǝpısd∩
ƚᴎoꟻ ᴎwoᗡ ɘbiꙅqU
Crazy Fonts
ⓢ☿♔♭⊙↳ⓢ
꓄ꋪꀤꌃꍏ꒒
ᑕʳΔⓩί𝕗ⓨ
卂丂丨卂几
Emoticons Fonts
(っ◔◡◔)っ ♥ KirbyHug ♥
(⌐■_■) Cool (⌐■_■)
ᕦ( ͡° ͜ʖ ͡°)ᕤ 𝓔𝓶𝓸𝓽𝓲𝓬𝓸𝓷 ᕦ( ͡° ͜ʖ ͡°)ᕤ
Emojis and Symbols Fonts
🍉 ⋆ 🍭 Eɱ😍ʝιʂ 🍭 ⋆ 🍉
🐨🍪 𝐄𝐦𝐨𝐣𝐢𝐬 ♗🍫
How Does It Convert My Texts?
This Fancy Font Generator tool converts your normal texts into Unicode symbols. Unicode is a technical standard that provides a unique number for every character or font, does not matter what device, application, or language. Unicode symbols and letters have been adopted by all modern software's and all major operating systems, search engines, web browsers, laptops, iphones and android smartphones. That's why you can copy-paste these fancy fonts in all social media like Facebook, Instagram, Twitter, Whatsapp, etc.
Can I Share It On Facebook And Instagram?
Yes, you can share it on many different social media platforms. These Fancy Fonts mostly used on social media profiles and usernames in games like PUBG, Free Fire. You can paste these stylish fonts in Facebook posts, comments, Instagram stories, bio, captions, comments and you can also use these fancy texts for twitter and many more social media platforms to gain more attraction and followers.
Can I generate fancy fonts for twitter?
Yes, you can generate fancy fonts for twitter, we created the fancy fonts with Unicode which is majorly supported by twitter. Just type your text and copy your desired fancy font then paste it on your tweets.